From our friends at The Find: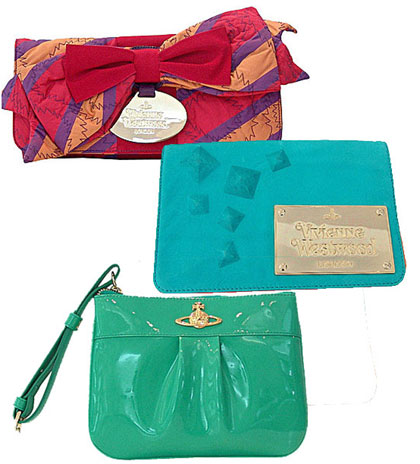 Lighten up your load this summer with the cutest and crispiest colored clutches from Vivienne Westwood. Keep your hobo bags and canvas totes at home. If you're headed out to run errands or have brunch, minimizing your necessities into a cute little clutch will not only keep you complication-free but also add a chic little touch of low-maintenance fashionable style to your outfit. With candy-colored clutches, these adorably bright finds will dress up and transform any of summer outfit into an uptown elegant ensemble. They possess just the right burst of color needed to pick you up even during the most distressingly sweltering hot days. Whether you rock it with the plainest jeans and a t-shirt outfit or the girliest, ruffle and frill class dress you own, picking one Vivienne Westwood's beautiful baby-sized summer bags is the most no-brainer carry along to the art gallery or restaurant. Plus, with one hand free and the other for your newfound amusing accessory, you can literally relax, and have a smoothie. Popsicles or snow cones are just as acceptable. Happy summer!
Shown above: Vivienne Wesstwood Small Clutch in Stripey, Small Clutch in Stud, and Summer Handbag in Kelly Green.
– Mira Torres
To celebrate the launch of CATALOGUE by TheFind for Facebook we are giving away an Apple iPad 2! Enter here. CATALOGUE by TheFind includes more-than 120 different catalogs from NET-A-PORTER, J.Crew, Anthropologie, Crate and Barrel, Williams Sonoma, and Nordstrom. You'll enjoy browsing as you would paper catalogs, but within the Facebook experience!