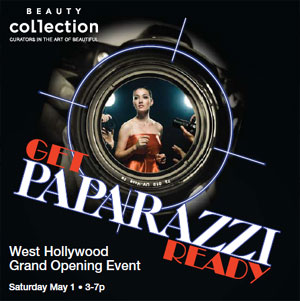 Wanted to share a fun beauty event for those of you in LA this weekend!
It's the Grand Opening of Beauty Collection's West Hollywood Store, taking place this Saturday, May 1st from 3-7 PM.
You'll Enjoy:
– Complimentary makeovers from Smashbox, Too Faced, Stila, Sue Devitt, Senna and Jane Iredale, Blow NY, Philip B and Lanza
– Free Headshots by celebrity photographer Jim Steinfeldt
– Beauty Bags valued at over $350 for the first 50 guests
– Food and Drink provided by Pavilions
– Entertainment by Go Go Dancers from the Abbey (Bring your receipt from the Abbey and receive 15% off)
– Music by acclaimed DJ Manny Patel
Special Guests will include brand founders from Leaf & Rusher, Sara Happ, Borba, LaLicious, Ole Henriksen, Booty Parlor, Nailtini & more, to chat with guests about their products.
Shop for a good cause! 50% of proceeds benefit The Beauty Bus Foundation, a non-profit organization which helps home-bound, terminally or chronically ill patients and their caregivers by providing them with free beauty and grooming treatments. Beauty Collection will generously match a portion of sales from this event in product donations to the Beauty Bus Foundation.
Details: Beauty Collection West Hollywood
8951 Santa Monica Boulevard (next to Pavilions)
Call for details: [310] 858-8838 or check out the event on Facebook.