From our friends at College Candy:
By Brianna-Fordham University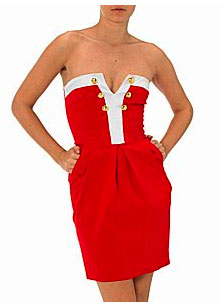 I am in total freakin' party mode right now. Not that I blame myself; actually, far from it. Instead I am rewarding myself for delaying Senioritis until the last 3 weeks of the year by downing bottles of wine with the girls on weeknights and stumbling into morning class with barhead and underye circles.
So obviously instead of getting my notes together for finals I'm just perusing the Internet for additions to my summer party dress lineup. The minute I grab my diploma, I'm strippin' off that gown and hitting the clubs hard.
The first night will be a little black number, skyscraper heels, chunky jewelry. But the subsequent nights, I'd like to mix it up a bit. Enter The Sailor Button Dress from New Look.
I never really got into the whole nautical trend, but this dress is too tempting to resist. The vibrant red only pops even more with contrasting white stripes and the split detail is totally sexy, while till having a demure, girlish quality.
The cut couldn't be any more flattering with a cinched waist and forgiving pleated skirt. And the nautical style embossed buttons draw the attention up to your shoulders having a totally slimming effect. Added bonus? It has one of my favorite features in a dress: pockets. Giving a comfortable, laid back vibe to an otherwise sophisticated and refined mini. I can already seem myself out on the town, one hand in a pocket, the other daintily holding a martini (or making a beer pong shot…either way).
And of course it meets my strict, wearable rule. Ankle strap heels, some mismatched bangles and a bare neckline make it nightlife ready. Then the next morning you can slip out of bed, throw on a white linen blazer and some flip flops for brunch. Not to mention that when fall weather hits a pair of black tights and a leather jacket will carry it through the season.
I'm hittin' the town sailor style…
Bon Voyage ladies!