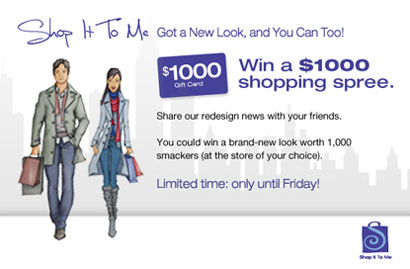 One of our favorite shopping sites, Shop It To Me, recently got a new look! To celebrate, they are giving away a $1,000 shopping spree!
Summer's sandals, bathing suits, dresses and accessories await you – It's easy to enter the giveaway and $1,000 could be yours to shop for what you want!
To enter, simply log in to your Shop It To Me account, and tell your friends.
Not a signed up yet? It's easy to join Shop It To Me and receive emails with fashion on from stores you love on sale and in your size!
Each friend that joins Shop It To Me will count as an extra entry for you. (And you'll still get a $10 gift card for each referral too) Now that's a contest that pays you to play!
Here are the official rules. Hurry! This contest ends Friday, June 11!