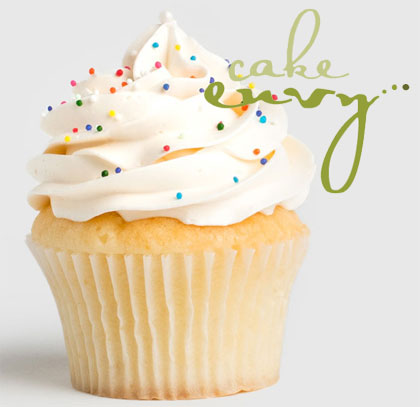 Choosing a wedding cake is such a fun part of the wedding planning process! I just learned of a fabulous new cake shop in Seattle, called Cake Envy. Cake Envy specializes in freshly made gourmet cakes and handcrafted cupcakes, using local and organic ingredients.
Founder Helen Noh studied at the Art Institute of Seattle and has a love of baking goodies like cakes, cupcakes and other sweet treats. She decided to pursue her dream opening Cake Envy and to share passion for baking with cake-loving Seattleites. More than just a cake shop, Cake Envy also serves cupcakes, Caffe Umbria coffee and Tea, beer, wine and champagne. Fun! They also offer workshops on fondant, gumpaste flowers, cupcake classes for children and a class for brides who want to bake their own wedding cakes.
Join the fun today and enjoy hand-drawn pictures of guests with their favorite cupcakes by an on-site caricature artist, cupcake tastings, and raffle drawings every 30-minutes. You can also enter for a chance to win your very own custom wedding cake! Now, all you need is the dress!
Cake Envy is located at:
7900 East Greenlake Drive North
Suite 106
Seattle, WA 98103
(206) 453 – 3337