From our friends at College Candy: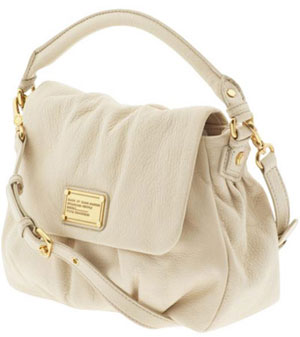 Last time I did a purse inventory (it has to be done when you've got a collection like mine), I realized something: all of my purses are super-sized. You won't find any mini's hanging around in my closet! I'm 5'8, so I can rock larger purses and since I'm a student, I'm always looking for purses that fit at least a textbook and a notebook. However, this can be a problem when I'm looking for a lighter purse for a day of shopping or a night of margaritas at the local club. Can you imagine lugging a giant leather hobo to the bar? Don't try it – speaking from experience here. So, when I saw Marc Jacobs Little Ukita, I knew it had to be mine.
The Little Ukita is a perfectly-sized purse. It measures 13 L x 10 H x 3.5 D and has both a short and long strap, making it super functional. You can even wear it cross-body! The leather is super buttery and the chic, graphic lining makes for a nice contrast. Every season, MBMJ keeps this classic shape in their rotation, but spices it up by releasing it in a whole new range of shades.
Find out the rest of the reasons why you need the Marc by Marc Jacobs Little Ukita here!