Are you single and loving it?! We just heard about this fun contest from VH1 and the hit show Single Ladies!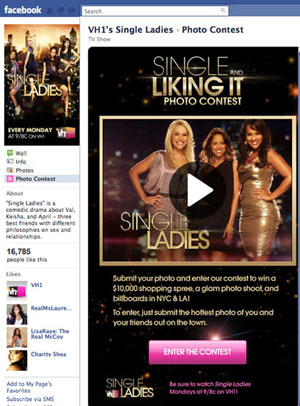 Here's how it works:
1) Go to the photo contest tab on the Single Ladies Facebook page and submit a photo of yourself out on the town with your friends
2) Rally all of your friends and get them to vote on your photo by hitting the pink "Like it" button
3) The photo with the most votes snags the massive NYC prize pack which includes a $10,000 shopping spree for you and three friends.
The contest ends June 22, 2011 so post your photo soon! The person with the most votes wins the ultimate trip NYC which includes:
– Travel and hotel for you and three friends to NYC
– A professional photo shoot with the VH1 team
– A $10,000 shopping spree and styling session for you and three friends, courtesy of Bluefly
– Billboards featuring you and your friends in NYC's Times Square and LA
About Single Ladies
From executive producer Queen Latifah, Single Ladies is a new VH1 series starring Stacey Dash that follows the lives of three glamorous, successful friends dealing with the ups and downs of living life – without a ring on it. It is a modern, sexy series set in the world of Atlanta fashion, music, and celebrity. Be sure to watch Single Ladies Monday at 9/8c on VH1.
Here are some tips on winning this contest:
Facebook
– Find your entry and hit the share button
– Share your submission on your Facebook Wall
– Get friends to to click the link back the contest and like your photo
– You can share on your wall, on a friend's Wall in a group, and in a private message
Email
– Email your friends and include your photo and link to the contest
– Ask everyone to vote daily and follow up to make sure they do
Twitter
– Post your link to Twitter daily and encourage your followers to RT and to click the link and Like your submission daily
– @Mention friends, urging them to vote for you
– Include the link to your submission on your Twitter's one line bio
Digg, Delicious and Stumble Upon
– If you're really ready to use the Internet to your advantage, Digg, Delicious and Stumble Upon are bookmarking sites where users share stories. Create an account and start a reading riot. Post the link to your photo and encourage fellow users to click it to vote.