From our friends at The Find: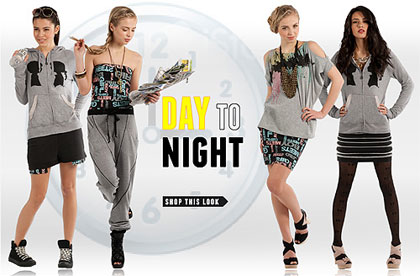 Stacy Igel, founder and designer of funky-feminine label Boy Meets Girl®, knows all about the importance of versatility, comfort, and convertibility of fashion when it comes to a busy gal who doesn't want to skimp on style. Her newest Summer 2011 Collection focuses on trendy, comfortable basics like hoodies, tees, banded skirts, and slouchy blouses for easy-to-wear style that's edgy but still approachable and laid-back. This summer, whether you're juggling work, internships plus summer school, multiple vacations (lucky you), or just filling up your calendar as a social butterfly, the last thing you need to spend countless hours on is deciding what to wear, especially for multiple occasions in one day. Stacy Igel and Boy Meets Girl® helps do the work for you by creating Day to Night looks within the collection, for comfy style during the day that can be amped up with some sexy wedges, a flirty skirt, and lots of accessories for a night out, without having to plan an entirely new outfit. It's amazing how even a hoodie can look sexy when paired with a slinky skirt, and even sweatpants get an upscale feel when paired with fierce booties and a Boy Meets Girl® It Was Written tube top!
– Alex Gambardella
Enter for a chance to win a $500 gift certificate to shop on www.BoyMeetsGirlUSA.com .To enter go to the official giveaway page on Facebook here. The rules for the giveaway include 'LIKE' Boy Meets Girl and TheFind. Leave a comment about which piece you would love to wear for your 4th of July weekend from the new Boy Meets Girl® Summer2011 Collection on the official giveaway page!