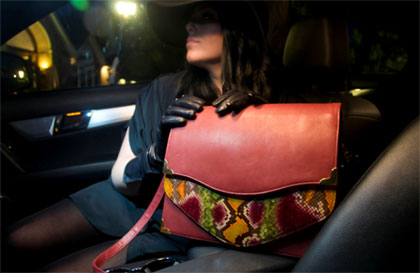 If you are not yet aware of Torregrossa Handbags, I want to get them on your radar. I wasn't until the brand contacted me with info on their latest collection. I was drawn in by the gorgeous designs and the versatility of each bag.
In January of 2010, sisters Bridget and Megan Torregrossa founded their line of luxury leather and suede handbags, with plenty exotic skin details. Featured in People Style Watch, Glamour, Marie Claire, Allure and more, Torregrossa is quickly moving to the top of fashionista's wishlists. The sisters, locals of New York City, have made a commitment to domestic production. While the leathers, exotics and hardwares are all from Italy and Spain, the bags are manufactured in the US.
I had the opportunity not only to try out a gorgeous Torregrossa bag for myself, but to interview the designer behind the line. The bag I tried was the 3 in 1 Clutch (Bag Four), in Brown and Brandy Caiman and it retails for $950. Details include soft, dark brown leather, luxurious exotics and high-quality hardware. This style is perfect for work and play – I love that you can wear it as a shoulder bag, cross-body, or remove the straps and have an oversized clutch. Plus, it comes in a ton of color/leather options so there is definitely something for everyone.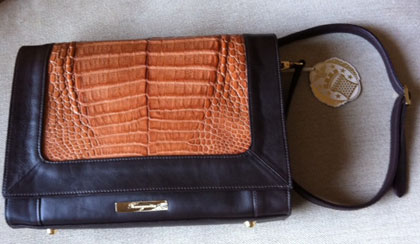 Bridget and Megan are no strangers to fashion and design. Their great grandmother, Lucia Mariani owned dress factories in New York from the early 1920's, and serves as inspiration for the sisters. Their family name, Torregrossa, means "large tower" in Italian. Found inside each bag is their crest, depicting a large tower, stars, crown and eagle, symbolizing their dedication to luxury and high-quality design.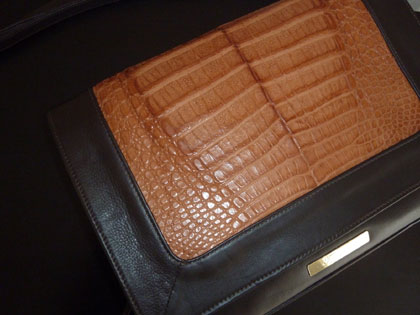 Below, designer Megan Torregrossa tells us a little more about the line:
SKP: Tell us a little about how you got your start designing.
MT: I have been designing handbags since a very young age. After graduating from FIT, my sister and I made the decision to follow a lifelong dream of starting a high-end, luxury handbag collection. My sister, Bridget, who worked for Burberry in Public Relations, has been instrumental in growing the brand, as we continue to introduce new and exciting designs. As sisters and partners, the support we have for each other will continue to help our company successful growth.
SKP: How would you describe the Torregrossa aesthetic?
MT: The Torregrossa aesthetic is definitely high end, luxury. We use and will continue to use both genuine leathers and exotic skins. Mixing the different mediums leaves so much room to continue to create new and exciting designs. The focus on functionality, as well as design and texture is evident with every bag in the collection.
SKP: Where do you find your inspiration for your handbag designs?
MT: I find my inspiration for my handbag designs in my everyday life. I design based on my own personal style and the style of people who surround me. I designed each and every bag to be an individual piece and be versatile and wearable.
SKP: If you had to describe the Torregrossa collection in 3 words, what would they be?
MT: Classic, Exotic, Luxury
SKP: What type of woman carries Torregrossa Bags?
MT: Torregrossa handbags redefine classic, luxurious style. Women who carry these handbags will be making a statement that defines their trendsetting point of view.
SKP: What is your favorite bag in your collection?
MT: The "Nanny" bag concept was conceived to honor the memory of our cherished grandmother, who passed away suddenly in December 2010. Bag 9 (The "Nanny" bag) was her favorite bag in the entire collection, so it will always have special meaning to me. She was so proud of us pursuing a lifelong dream and we are just glad she was able to be a part of it.
SKP: Right now, oversized clutches and cross-body bags are hot. What are some handbag trends that we are going to see in upcoming seasons?
MT: I feel that the oversized clutches and cross-body bags will continue to be a trend in upcoming seasons. We will continue to see the use of exotic materials in most collections. The demand for luxury will always exist. The past few seasons you have seen more and more exotics being used in different ways and I know that will only continue.
SKP: What is your current favorite fashion trend?
MT: My current favorite fashion trend would have to be the use of exotics. I of course love them being used in handbags, but they are so beautiful in shoes, other accessories, and apparel. The use of exotics make any accessory timeless.
SKP: What trend would like to see disappear?
MT: A trend that I would like to see disappear for handbags would have to be the use of too much hardware. I love using hardware; buckles, rivets, studs, feet, logos, but to over use them takes away from the design and beauty of a handbag.
SKP: How do you see the company evolving in the future?
MT: The Torregrossa collection will continue to bridge the gap between high-end designer labels and less expensive, mass produced labels, without neglecting quality and design. This is something we take great pride in and hope to evolve based on this principal. In the future we also hope to expand into different accessories and some day even apparel.
For more information on Torregrossa handbags and to shop the collection, visit: TorregrossaFashions.com.
For tips on taking care of your leather purses, read our post on How to Clean a Leather Handbag.