I've been working on getting organized lately. Two kids have turned my world upside down in more ways than one. As a formerly organized person, I grapple with my new life of chaos – sleep deprivation combined with low productivity leave me feeling like I am losing my mind. Take for example, my handbags. They used to contain the usual items – wallet, keys, mobile phone, makeup, etc. – everything in it's place. Now, crumpled receipts mingle with snack wrappers, broken crayons and spilled liquids – Awesome.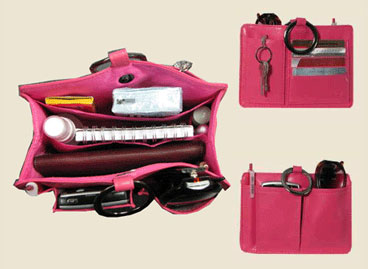 I've seen ads for purse organizers, but never have tried them, until a company contacted me about doing a review. Pouchee sells a variety of organizational solutions for your handbags. After receiving a large handbag for Christmas, Anita Crook, got the idea to design a purse organizer, and the Pouchee was born.
After transferring many of my purse contents into a Cotton Pouchee ($24), I was ready to give it a try. I like how it has tons of pockets and room for items like cell phone, credit cards, sunglasses, etc. It is expandable, so great for both small and larger purses. I also like the top rings, for easy transferring from bag to bag. It's also washable – bonus! I carry a LOT in my bag, so the Pouchee doesn't fit all of my items, but it is a good way to corral the essentials.
Want to try one? Browse Pouchee products and find the right purse organizer for you at Pouchee.com.