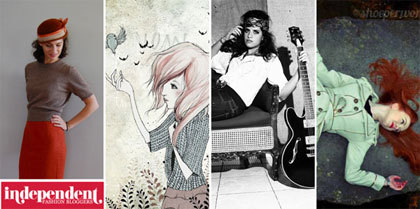 Coats on!
Edited by: Florrie Clarke of Intrinsically Florrie
Change is literally in the air, bringing with it the cold and rain that requires a wardrobe transition. I must confess to being ill prepared myself and as a consequence have been drenched in the freezing cold. Time to get out your boots and coat because fall is well and truly here. I may stick stubbornly to my floral dresses all year round, but the difference is in the layers. So I'm on the look out for fabulous tights and there are a couple of lovely posts to help me choose or even DIY my own style.
Links à la Mode: October 14th
Beautifully Invisible: The Art of Fashion Photography, as told by guest contributor Casee Marie
Best of bklyn: A guide to looking great on rainy days.
Broke & Beautiful: Kelli Murray proves that fashion and style are both forms of art.
Clothed Much: Blogging tips I've learned after a year and a half of blogging
Dramatis Personae: If I Were Another Person- What would you wear if you were someone else?
Forever Amber: My discovery of style blogging has also led to a discovery of places around my town that I didn't even know existed
Grit and Glamour: Friend Friday: Sticks, Stones, Comments, Criticism, and Kindness
Independent Fashion Bloggers: Bloggers Talk Monetizing Sites
Intrinsically Florrie: A backstage look at the London Season debutantes of 2010 at the Queen Charlotte's Ball, featuring Pronovias wedding dresses and Mikimoto jewelry.
Leia's Delights: Tutorial on how to enhance curly/wavy hair
Love Brown Sugar: Why spend your hard-earned dollars on trends that will fade away next season? A Guide To Thrifting Trends
Make the World a Prettier Place: A selection of beautiful vintage-inspired dresses
Malvestida: I came across the idea of making a photoshoot about two of the things I love the most: music and fashion.
Oranges and Apples: Beauty Essentials: Nivea Creme
Other Dutch Animals: Mad men and English women: reject the high maintenance of the past and do vintage your way
Skinny Purse: How To Wear Tights – Fall's Essential Foundation Garment
Shrimp Salad Circus: Get that extra mile out of your tights with seven fun and fashionable DIY projects!
Style Eyes: Sustainable Clothing – Progress by the UK high street and online retailers since the launch of the sustainable clothing action plan
The Citizen Rosebud The story a a couple of backhanded compliments
The Coveted: Is it Fall Yet? What to wear in transitional weather.
The New Professional: DIY: Turn an A-line into a pencil skirt.
SPONSOR:
Shopbop Dresses; Jersey, Maxi, Mini, Black, Cocktail, One Shoulder, Work, & Sweater dresses